Tuesday, 23 September 2008
spread the word, this ones gonna be a big un!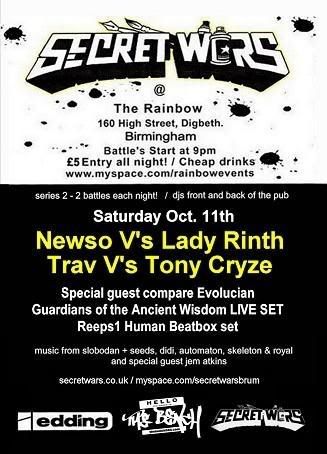 cheers
Posted by

Monorex
at 08:09
No comments:

Yes yes secret wars fans and folks
big shouts to everyone who made it down for the Q-bert gig at the rainbow warehouse recently..
Where we did a little bit of a demo out the back, and our resident dj's held it down.
2p, N4t4, Phill Blake
and
Monk
proceeded to nice up some boards we had set up, as many an onlooker appreciated their Edding pen wizardry. It was a night of fun and frolics, and as for Q-bert.. the man must be alien. one word, skills. out of this world..
there's a video you can watch here courtesy of trav (nice 1 mate)
link >
http://www.dailymotion.com/video/x6rm7v_qbert_music
we're also pleased to let you good people out there know that the latest copy of "Fused magazine" (the student special) has an article all about Secret Wars in Brum!
go grab your copy today...
in the meantime, read the online version here > http://www.fusedmagazine.com/Past_Issues/Student_Issue/Secret_Wars.aspx


The next round cometh...
October the 11th will see defending champion Newso go up against our one and only female contender Lady Rinth. And oldest contender Tony Cryze will brawl with youngest battler Trav. This ones gonne be big...
You can also look forward to a live set from Guardians of the Ancient Wisdom, guest compare Evolucian and none other than a special visit from Reeps1 for some serious mouth science.
Guaranteed to be a massive night, see ya there!

Seeds + Slobodan
Posted by

Monorex
at 03:12
No comments:

Monday, 15 September 2008
BIRMINGHAM SECRET WARS SERIES 2

All the latest news, artist features and sw reports will be posted here...
Posted by

Monorex
at 12:26
No comments: